Value stocks fell to a seven-month low in relation to growth stocks, already lagging by more than 20% year to date on the heels of an AI-related rally propelling equities in the technology sector.
On Thursday, the ratio between the iShares Russell 1000 Value ETF (NYSE:IWD) and the iShares Russell 1000 Growth ETF (NYSE:IWF) fell to levels not seen since end-January 2022, thus illustrating a widening underperformance of value-oriented companies relative to growth ones.
The gauge that measures the relative strength of value against growth stocks climbed as high as 33% in 2022, as the Fed's aggressive rate hikes triggered massive selloffs in growth-tech shares, while the value segment of the market was bolstered by the stellar performance of energy stocks.
Although value stocks have lost virtually all of their relative gains compared to growth since 2022, they remain substantially cheap in the long term, with the IWD/IWF ratio still trading more than 60% lower than its September 2008 highs, when Lehman Brothers failed.
Chart: Value Smashed Growth In 2022, But Gave Back Gains In 2023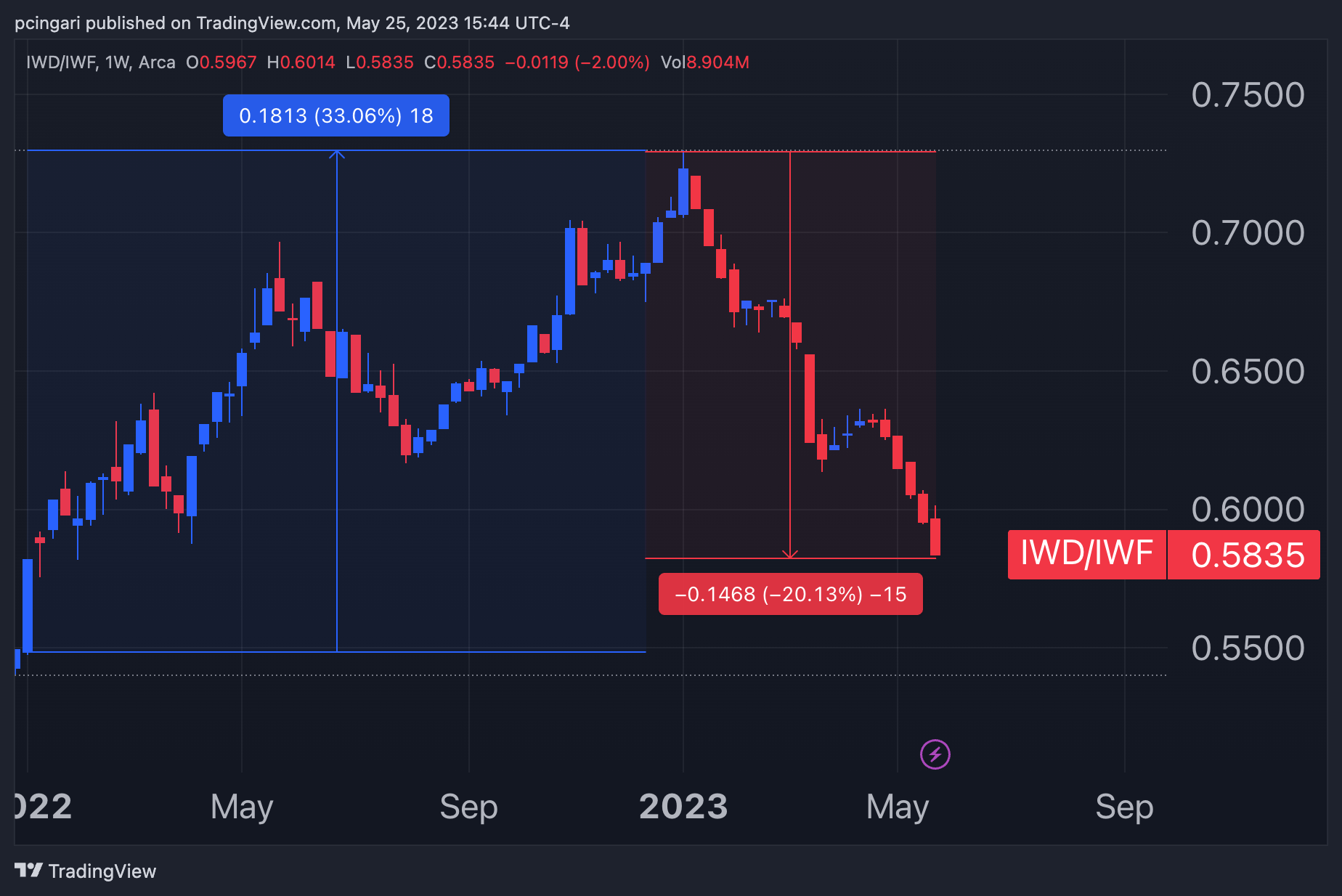 Chart: Value Is Still Over 60% Cheaper Than Growth Since 2007
What Explains the Performance This Year? Losses in the Energy Select Sector SPDR Fund (NYSE:XLE), Utilities Select Sector SPDR Fund (NYSE:XLU), Financial Select Sector SPDR Fund (NYSE:XLF) and Real Estate Select Sector SPDR Fund (NYSE:XLRE) have weighed down the value-invested ETF.
Read More: Joe Biden: 'There Will Be No Default,' And McCarthy Agrees