Most electric vehicle stocks rose in the week ending March 31, with the broader market strength primarily responsible for the upside. On the other hand, company-specific catalysts weighed down on some stocks, leading them to buck the uptrend.
Here are the key events that happened in the EV space during the week:
Tesla's Week – Rally, Recall & Rumor: Tesla, Inc. (NASDAQ:TSLA), which is losing out on the $7,500 EV tax credit allowed under the Inflation Reduction Act of 2022, is planning a workaround. The U.S. government has stipulated that, to become eligible for the subsidy, a certain portion of the battery must be sourced from North America. The percentage stipulation is 40% for packs assembled in 2023 and will increase up to 70% by 2026.
A Bloomberg report said the U.S.-based company is contemplating setting up an EV battery manufacturing business in the U.S., along with its Chinese supplier CATL.
Tesla was plagued by another recall this week — this time related to the Tesla Semi that was made commercially available on Dec. 2022. The recall addresses faulty parking brake valve models manufactured by one of its suppliers.
A Reuters report said Tesla CEO Elon Musk is planning to visit China in April and possibly meet Premier Li Qiang. The visit is noteworthy because China is Tesla's most important production hub and one of its largest markets.
Tesla stock climbed back above the $200 threshold this week, with the upward momentum partly attributable to expectations of strong first-quarter deliveries numbers this week.
Rivian Soars On Positive Q1 Expectations: Rivian Automotive, Inc. (NASDAQ:RIVN) was among the best-performing stocks this week. Needham analyst Chris Pierce said in a report that the company could report first-quarter deliveries of 8,145 units, outperforming the consensus estimate of 7,176 units. The analyst based his deduction on Kelley Blue Book's sales data.
Read Also: Best Electric Vehicle Stocks
Lucid Recalls 637 Air Sedans: Lucid Group, Inc. (NASDAQ:LCID) issued a recall notice for 637 of its Air sedan due to the risk of power loss shutting down electric motors, which, in turn, causes a loss of drive power and increases the risk of a crash. This can happen due to issues with electrically activated switches — or contractors — that can unexpectedly open, cutting power to the electric motors.
The company has asked customers to bring their vehicles to a service center to update the cars' software and replace the contractor switches for free.
Nikola To Sell Shares At Discount: Shares of struggling EV and fuel-cell energy truck maker Nikola Corp. (NASDAQ:NKLA) fell sharply on Friday after it announced a $100 million common stock offering priced at $1.12 apiece, down from the $1.40 at which the stock ended on Thursday.
Canoo Announces SEC Settlement: Lifestyle EV maker Canoo, Inc. (NASDAQ:GOEV) said in its fourth-quarter earnings report that it has reached a $1.5 million settlement with the SEC in regards to a regulatory investigation that began in May 2021 regarding its SPAC deal, business model, financials and customer agreements, among other things. The company also reported a deep drawdown in cash in the fourth quarter.
Check out more of Benzinga's Future Of Mobility coverage by following this link.
Faraday Future Starts Production Of 1st EV: Faraday Future Intelligent Electric Inc. (NASDAQ:FFIE), another ailing EV startup that has been contending with multiple issues, announced this week the start of production of its flagship luxury EV — the FF 91 Futurist — at its California factory. The vehicle will be offered in both the U.S. and China.
Read Next: Tesla Analyst Predicts Q1 Deliveries Beat As Price Cuts Help Snare Market, Mind Share In China
EV Stock Performances for The Week: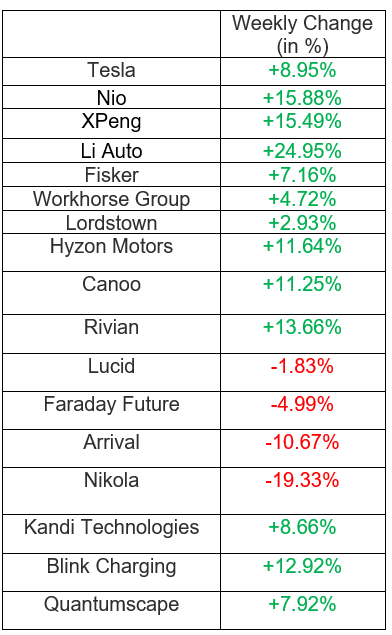 Image: Shutterstock