Shiba Inu (CRYPTO: SHIB) was trading slightly lower during Thursday's 24-hour trading session, in tandem with Dogecoin (CRYPTO: DOGE).
In contrast, Bitcoin and Ethereum were holding flat, propped up by the general market, which saw the S&P 500 trading about 0.8% higher.
Although Shiba Inu and Dogecoin were sliding, a bullish divergence started to form on the crypto's 24-hour chart.
Bullish divergence occurs when a stock makes a series of lower lows over a specific timeframe, while the relative strength index (RSI) oscillator makes a series of higher lows. Divergence suggests that the bulls are regaining control and can mark an imminent reversal of a downtrend.
Divergences are best used when combined with other signals and patterns on a stock or a crypto's chart, because the existence of divergence doesn't indicate when a possible reversal will occur.
Want direct analysis? Find me in the BZ Pro lounge! Click here for a free trial.
The Shiba Inu Chart: Although Shiba Inu formed a new four-month low on Thursday, the crypto's RSI has been making a series of higher lows, which has caused bullish divergence to develop. In order for the divergence to correct, Shiba Inu will need to print at least a higher low, which will negate the current downtrend.
On Thursday, Shiba Inu was working to print a hammer candlestick, which suggests the local bottom may have occurred and the crypto will trade higher on Friday. If that happens, bullish traders want to see the crypto rise above $0.00000917, which would suggest a new uptrend was in the cards and Thursday's drop was a bear trap.
Bearish traders want to see the crypto top out and form a bearish reversal candlestick, such as a doji or shooting star candlestick, under that area. If that happens, a new downtrend will be confirmed.
Shiba Inu has resistance above at $0.00000856 and $0.00000975 and support below at $0.00000793 and $0.00000738.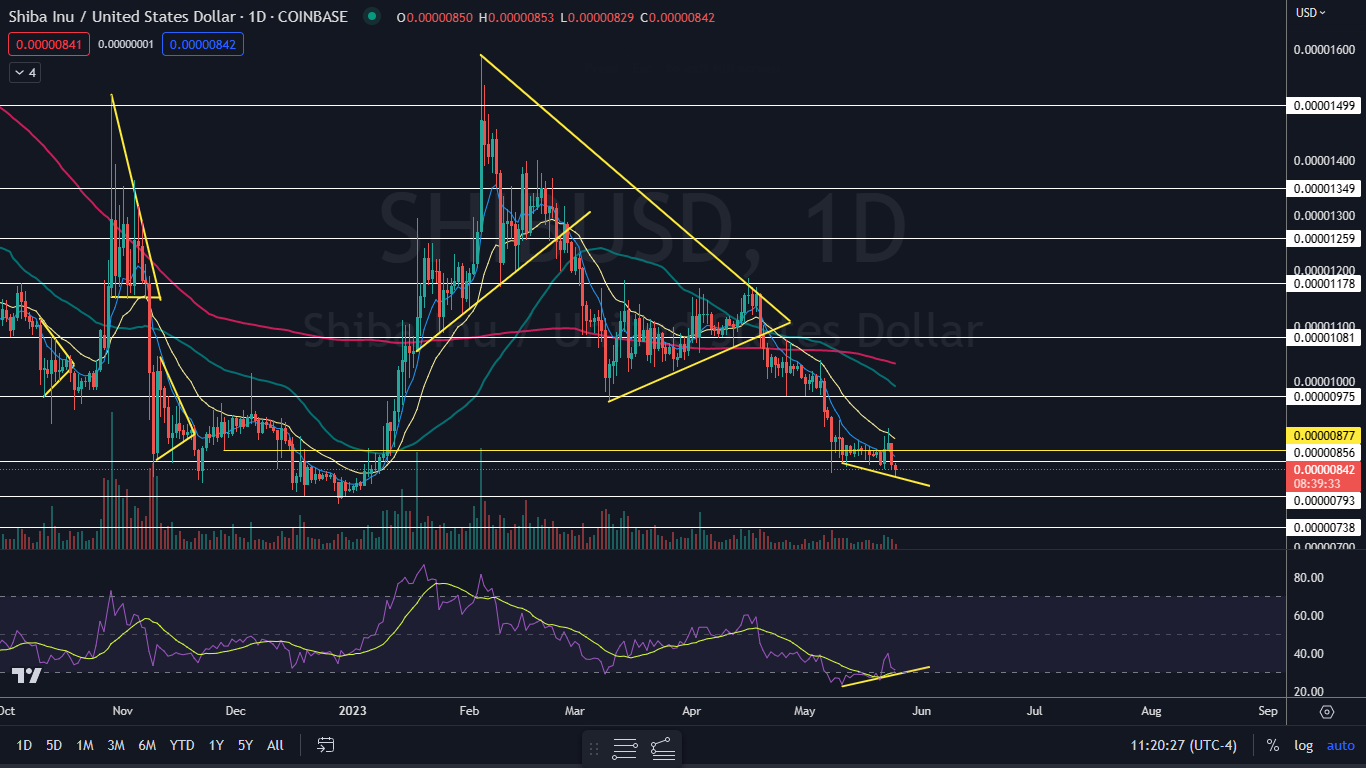 Read Next: A DeSantis Vs RFK Jr. Bitcoin Debate? This Podcaster Is Ready To Host It
Photo: Shutterstock